Surrounding Environment
Discover a tourism facility where everything was well-thought of and preserved.
Cool off at the pool, warm up at the Jacuzzi or just relax on the hammocks.
Summer or winter, you will always experience moments of true pleasure at Casa do Ouvidor.
How long has it been since you have enjoyed a book in a dreamlike place?
Our garden has several separated living areas, where different groups might coexist with some privacy.
The entire area is framed and valued in a way that does not to compromise the rural setting.
As "A Casa do Ouvidor" is older than the Regional Road, its main facade, as well as its master bedrooms and living room, face the ocean providing a dazzling view over the town of São Roque, São Jorge Island and the channel that separates it from Pico.
Located in a rural area, Casa do Ouvidor is near several areas worth visiting.
The propriety is 7,560 m2, thus offering some quiet retreats for reading or just contemplating the landscape.
Surrounding the house, there is an orchard with over 100 fruit trees, still growing.
Pick the fruit and taste its fresh flavour while enjoying the rare landscape.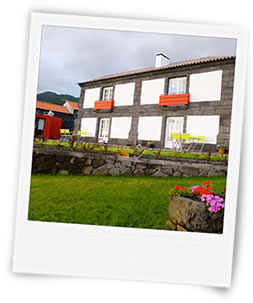 Pool and sun porch
The pool, with 66 m2, has a water analysis system and an automatic maintenance and cleaning system.
The sun porch is sided by lawn and equipped with modern garden furniture: armchairs, tables, sun beds and parasols.
The lightning was arranged in order to create a calm and serene environment, so you will be able to admire and identify countless constellations in the starry Azorean sky.
Therefore, walk and enjoy such places as:
Streams
Watermills
Walking Trails
São Roque Bay
São Roque natural pools
Whalers' Museum
São Roque Northern Shore

...and so much more!
&nbsp
&nbsp