The History of Pico Island
Earth, Water and Fire Trilogy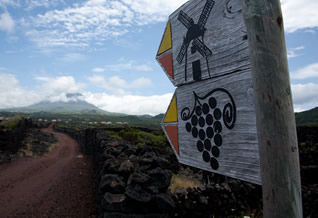 Pico, one of the nine islands that form the archipelago of the Azores, which is located half-way between Europe and North-America, is the westernmost border of the European Community.
Even though the Azores Islands are quite different from each other, they still have much in common: their volcanic origin, their natural resources and the customs and habits of their people. The ethnic diversity of the islands' settlers (most of them Portuguese and Flemish) and the isolation that they endured for many centuries led to an Azorean culture that is very special and particular.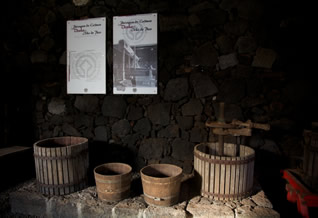 the isolation that they endured for many centuries led to an Azorean culture that is very special and particular. The exact date of the settling of the Azores is not consensual among historians. However, around 1440, the Portuguese king ordered the settlement of the Azores Islands by royal charter. The islands were desert and their settlers would be Portuguese people from the North of the country.
The settlers of Pico Island arrived around 1460 to the parishes of Lajes and Ribeiras on the south. Lajes became thus the first municipality and the administrative headquarters of the island.
The first years of settling of Pico were not easy. Most of the island's soils were covered by stones and woods, so it became necessary to dig and to remove stone after stone in order to reach the arable land where orchards and vines would be grown. For many years, these would be the most important economic activities for the people living on Pico.
From the high quality wines produced at that time, the Verdelho stands out, as for over two centuries it travelled the world, from the table of the Pope to that of the Russian Tsars.
The best soils were used to grow wheat and woad, a dye plant later exported to Flanders.
For the inhabitants of Pico agriculture and fishing have always been side by side.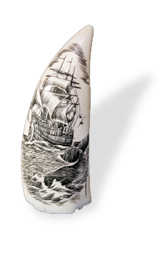 The first whaler boats which arrived on the islands to recruit young men as whalers appeared in the Azores in the late 18th century. When these tough and brave seamen returned, the hunting of sperm whales began, and for many years, it was an important source of wealth for Pico Island.


"Pico Island, one of the top twenty islands in the world to live on"

"Azores, the second best islands in the world for sustainable tourism"

"Azores, one of the world's most unique travel destinations"

"Volcanic Landscape of Pico Island, Natural Wonder of Portugal"

"Azores, one of the ten best whale watching destinations"

" Vinha do Pico, World Heritage"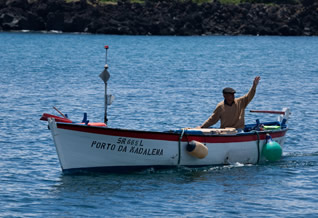 Paisagem protegida da Vinha do Pico
© Carlos Silva
Botes e lancha baleeira, ilha de São Jorge ao fundo
© Carlos Silva
Centro de Interpretação da Vinha do Pico
© Carlos Silva
© Direitos Reservados
Lancha de "boca aberta"
© Carlos Silva